Bercman Technologies has installed Smart Pedestrian Crosswalks on Kiltsi road and Tallinn highway in Haapsalu, making it safer to cross unregulated crosswalks on transit routes towards Hiiumaa. The device warns both drivers and pedestrians of danger with a light signal.
According to Innar Mäesalu, deputy mayor of Haapsalu, installing smart crosswalks is part of improving the city's road safety. "We want traffic in Haapsalu to be as safe as possible for everyone. Kiltsi road and Tallinn highway were chosen primarily based on car traffic on the road. Both roads are transit routes to Hiiumaa and therefore have a lot of traffic, which is why we started to make the crosswalks smarter from there," explained the deputy mayor.
Mart Suurkask, CEO of Bercman, said these are the first smart crosswalks in Haapsalu, which will help the city to create a more people-friendly and safer environment. "The number of passengers travelling from Tallinn to Hiiumaa increases exponentially in summer and I am glad that the journey to Hiiumaa will be safer for passengers this summer and we can contribute to preventing avoidable road accidents," added Suurkask.
According to Jaan Hendrik Murumets, Bercman's Chief Technology Officer, the crosswalks are equipped with cameras, radars and sensors that collect real-time data on what is happening in and around the crossing. "Data on the number of pedestrians, false crossings, air and road surface temperature and many other indicators are displayed graphically in cloud software, making it easy to monitor them at any time," Murumets said. The data collected can be used by the municipality, for example, to plan road maintenance, monitor traffic and, if necessary, make changes to traffic management and plan other activities to improve urban space.
"In Haapsalu, we are also using battery power for the first time to light the crossing, with batteries being charged from the mains at night when the streetlights are on. This means that the municipality does not need to keep the power on during the day to light the crossing and can save electricity," Murumets explained.
According to Mäesalu, the city plans to continue installing smart crosswalks. "Next, we want to install a crosswalk on Lihula Road by the elementary school, where there is school-related traffic."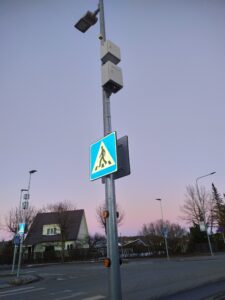 Bercman's smart crosswalks are in Tallinn, Tartu, Viimsi and now Haapsalu, with more coming soon to Saue and Saaremaa.
Let us know if we can help you deliver innovative solutions for complex problems Contact Us